Diwali, Devali or Deepavali is popularly known as the "festival of lights,". Diwali is an official holiday in India, Nepal, Sri Lanka, Myanmar, Mauritius, Guyana, Trinidad & Tobago, Suriname, Malaysia, Singapore and Fiji. For Hindus, Diwali is one of the most important festivals of the year and is celebrated in families by performing traditional activities together in their homes. For Jains, Diwali marks the attainment of
moksha
or
nirvana
by Mahavira in 527 BCE.
Diwali is a five day festival which starts on Dhanteras, celebrated on thirteenth lunar day of Krishna paksha (dark fortnight) of the Hindu calendar month Ashwin and ends on Bhaubeej, celebrated on second lunar day of Shukla paksha (bright fortnight) of the Hindu calendar month Kartik. In the Gregorian calendar, Diwali falls between mid-October and mid-November.
Diwali Greetings
दिवाली की शुभकामनाएं -
Diwali ki Shubhkamnayein
ദീപാവലി ആശംസകള്‍ - Deepavali Aashamsagal
ದೀಪಾವಳಿ ಹಬ್ಬದ ಶುಭಾಷಯಗಳು - Deepavali Habbada Shubhashayagalu
शुभ दिपावली की मंगलमय शुभ-कामना - Subha Dipawali ki mangalmaya subha kaamanaa
Diwadi ni khub khub Shubhkamnao / Saal Mubarak
ਤੁਹਾਨੂੰ ਦਿਵਾਲੀ ਦੀਆਂ ਬਹੁਤ ਬਹੁਤ ਵਧਾਈਆਂ ਹੋਣ - Tuhanu diwali diyan boht boht vadhaiyan
दिवाली मुबारक होआप सव के - Diwali Mubarak Ho Aap Savke
தீபாவளி நல்வாழ்த்துகள் - Deepavali Nalvazhthukal
শুভ দীপাবলীর প্রীতি ও শুভেচ্ছা - Subho Deepabalir Preeti O Subechsha
दिवाळीच्या हार्दिक शुभेच्छा - Diwalichya hardik Shubhechha
దీపావళి శుభాకా౦క్షలు - Deepavali Shubhakankshalu
ଦୀପାବଳିର ଅନେକ ଶୁଭେଛା - Deepavalira Anek Shubhechha
Diwali Greetings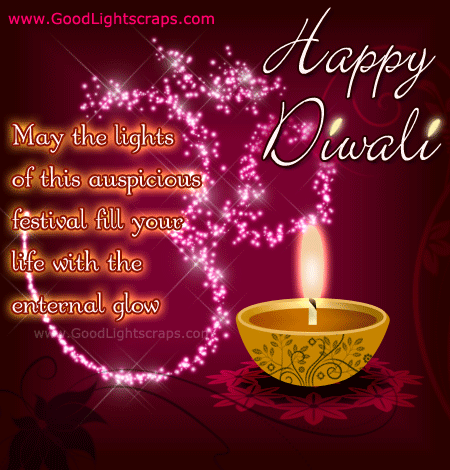 Diwali marks the end of the harvest season in most of India. Farmers give thanks for the bounty of the year gone by, and pray for a good harvest for the year to come. Traditionally this marked the closing of accounts for businesses dependent on the agrarian cycle, and is the last major celebration before winter. Lakshmi symbolizes wealth and prosperity, and her blessings are invoked for a good year ahead.